X Factor hopeful Sam Callahan went all out in May this year to do 15 crazy stunts for charity.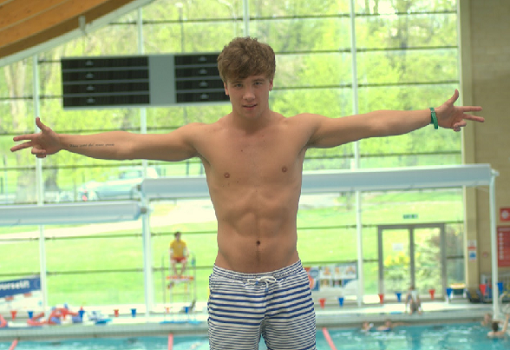 The talented singer from Essex dedicated his time to raise funds for The Teenage Cancer Trust by doing crazy stunts that included the following for his Sam's Crazy Campaign :
1. Ghost Hunting
Sam kicked off his Crazy campaign ghost hunting at the London Tombs with a little help from his mates Micky Parsons (District 3 ) and Luke White (Times Red). Both lads were on the X Factor in 2012.
2. Eating a 26 inch Pizza
At Rays Pizza Parlour in London, Sam took on a challenge fit only for a man about two or three times his size by attempting to eat a 26 inch Pizza, but he managed to eat ever last piece.
3. High Board Diving with Back Flips
Cambridge Parkside Pools played host to Sam crazy diving stunt, where he did a couple of back flips off the high board. This could possible make him a contender for Tom Daley's Splash series next year.
4. Wake Boarding
Next up was Waking Boarding at Hove Lagoon Wake Park near Brighton. He seem to have had the time of his life doing this one.
5. Skinny Dip
Sam braved the cold at 4am one morning to skinny dip in Central Park, Chelmsford, despite being threatened with arrest if caught.
Sam's other challenges were:
6. Pole Dancing 7. Show Jumping 8. Bungee Jump 9. Morris Dancing 10. Fire Walk 11. 100mph Zip Wire 12. Zorbing 13. Spartan Challenge 14 Dirt Bike Jump 15. Sky Dive
His efforts netted him over £2,000 for The Teenage Cancer Trust.
Well done Sam.
See Sam's video single titled 'Crazy' below and how you can contribute to his good cause:
If You would like to donate to Sam's funds, head over to Sam's page on the Just Giving website to make your donation.
See Also:
Sam Callagan' debut track Runaway Train set to climb the charts thanks to The X Factor 2013