American Idol star Adam Lambert and his pal DJ Avicii, has reportedly wrote a track about female oral sex.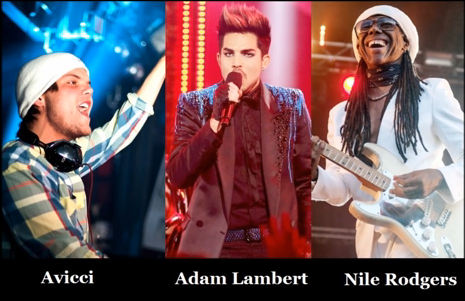 The revelation came from Nile Rodgers who confess that he and his pals Lambert and Avicii, have been collaborating on some new tracks, and during the process his mates came up with a track with a very saucy subject matter!
The trio recently collaborated on 'Lay Me Down' , a track from the Swedish DJ's début album and despite not being released as a single, it has performed well in charts all around the world.
Rogers revealed that he, Adam and Avicii also wrote a tune about "going down on a girl" and Rodgers took to Twitter to reveal that despite being gay, Lambert gave a thoroughly convincing performance when he record the track recently.
He tweeted:
"1 of the 3 New Songs done between @Avicii, @adamlambert & @nilerodgers is about 'going down on a girl' AND Adam co-wrote & sang it to DEATH!"
In a recent interview, Avicii praised the American Idol star, saying he is like a 'reincarnation of Freddie Mercury.'
See Adam taken on a David Bowie classic live in this video:
See also:
Avicii teams up with Adam Lambert and Nile Rodgers to unveil new track " Lay Me Down"
Adam Lambert photos filming for Glee season 5 by Naya Rivera