Rough Copy takes on Bryan Adams classic track 'Everything I Do' on The X Factor movie theme tonight.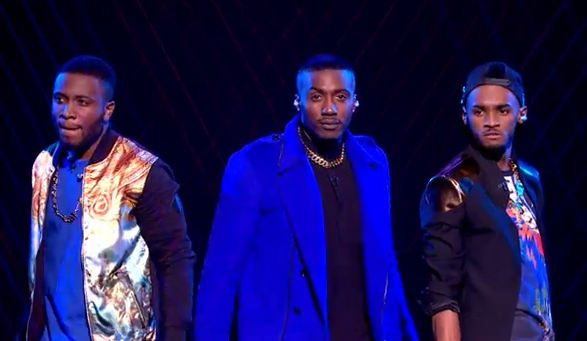 The song written by Bryan Adams and Michael Kamen, was a movie soundtrack in the film Robin Hood: Prince of Thieves in 1991; The track was taken from Adams' album 'Waking Up the Neighbours'.
Kazeem, Joey and Sterling are all from Croydon and are friends with the 'The Risk' – another band  from Croydon who made it to the X Factor finals – but the lads from Rough Copy are hoping they will stay longer on the show than their friends did back in 2011 when they finished in 10th place.
This week the bookies have made Rough Copy third favourites to win the show this year, so that must be good news for the boys as the take to the X Factor stage tonight.
After their performance tonight, this is what the judges had to say:
Gary Barlow: "These guys came up with the song choice. We know you guys for the fun but you took it back to what's most important, it's the vocals and it was a beautiful performance."
Louis Walsh: "I love the fact that there are 3 strong singers, you are a bit like the UK version of Boyz II Men. I loved the vocals and you are getting better week after week."
Nicole Scherzinger: "Boys, thank you. That is the way to kick off the show. Boys I said before you guys don't disappoint, I loved in the beginning everyone had their own moment to shine individually. Sometimes a little bit of pitch [problems] but other than that you guys are a vision."
Sharon Osbourne: "Well we are in week three and you are behind where you should be at this stage. You are so confident, so professional and it's nice to see you sing something in a different mood. I love the outfits, stunning. Really well done."