Making new groups at the bootcamp or the judges houses stage of The X Factor has been a long establish task that the judges like to do. But it was not until 2010 that their judgement was rewarded when they created One Direction.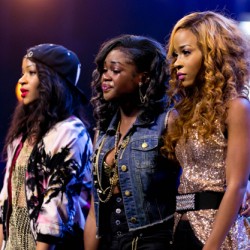 After creating girl group Little Mix in 2011 the judges decided to try their luck with another girl group to see if they could repeat the same level of success with a new group.
Jeanette Akua, Rielle Carrington and SeeSee were put together to form the new group believed to be called Stop, Look and Listen.
Gary Barlow is said to have branded them "The new Destiny's Child!"
At bootcamp the Take That star  tells Girls' mentor Nicole : "We only have one girl group, I'd love to make a group from these girls."
We previously saw SeeSee tell the judges at bootcamp that she didn't want to leave her bandmates behind to go solo.
Speaking about her decision to move into another band, SeeSee said: "I had an emotional rollercoaster, I didn't want to leave the boys but this is my life, and I have a daughter."
The girls were only together for ten hours, put into an intense bootcamp rehearsal by mentor Gary.
They're one of the last acts to perform in the category, singing We Found Love by Rihanna.