Stephanie Woods, returned to The X Factor stage tonight to take on  'I Drove All Night' by Celine Dion at the Wembley arena.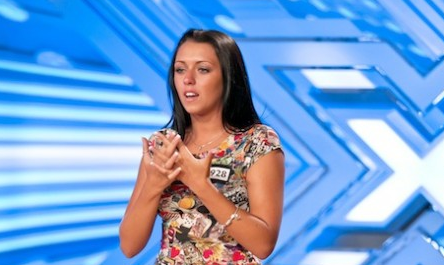 Before her performance, Stephanie spoke about what it was like for her returning after first appearing on the show 7 years ago:
"When I saw Sharon in the room audition it was so overwhelming and emotional. It just made me want it even more because I wanted to show her what I can do now."
"I am working in a hotel as entertainment but this is what I want to do. I am just hoping that the audience is going to like me as well as the judges."
However, after her rendition of the Celine Dion track, the judges were not impressed with the song choice:
Gary Barlow: Stephanie you are a really good singer, why sing something so old fashioned for such a young girl? It just doesn't seem right. It's too dated.
Louis Walsh: I think you picked the wrong song.
But the panel decided to give her another chance and she performed 'Songbird' by Eva Cassidy.
Nicole Scherzinger said: "That was really lovely, it was very sincere."
Louis Walsh: "I think you have a great voice, I have to say yes."
Sharon added: You know I'm biased. It's a yes from me."
Gary Barlow:
"I question these decisions you are making with these songs. You are not going to get into the charts singing songs like that. You need to go back and modernise what you do. But you're too good a singer to let go. I'm going to say yes."
So in the end Woods got four yeses and a place in bootcamp.