Pop group Plastic tried out for the X Factor this year and brought a bit of camp and fun to the auditions.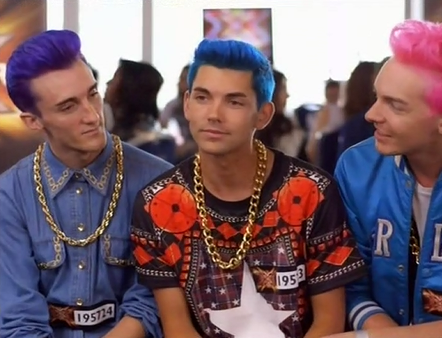 The very colourful group, sporting coloured hair, brightly coloured cloths and large gold chains, impressed the judges with their performance.
The band, made up of members Sam Morris, Tom Davies and LuLu Smith, even managed to impress Gary Barlow, who given is encounters with Rylan Clark last year, is no fan of camp novelty acts.
The boys are all from South London, and live together in what they call their plastic place, because it is decorated as brightly as their image. However, they do come across as three individual Rylan Clarks, except they are better singers, better dancers, has lots more personality, and are more likeable.
Sharon Osbourne loved their performance and told one member of the band that he looked like a young Bruce Forsyth.
Gary Barlow said "Guys, on paper this is everything I usually hate, but it was great."
Nicole loved it, and Louis Walsh told the lads that they did a great audition.
Plastic went through to the arena auditions with 4 yeses.