Irish boyband Out Of The Blue ( previously known as 5th Base), move on to The X Factor arena auditions after showcasing their talent to the judges with their rendition of Little Mix's "Change Your Life".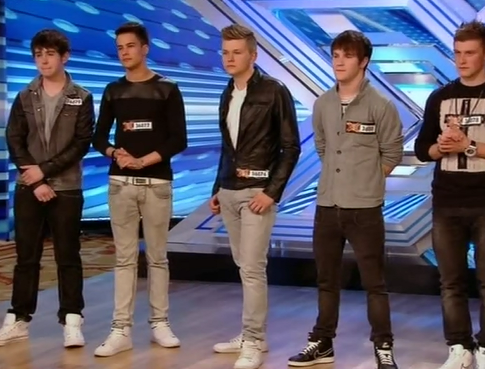 The five members of the band who are: Dean Gibbons (21), Jay Cafolla (20), Darren Regazzoli (21), Shane Thornton (19) and Chris Lenard (17), said they want to follow in the footsteps of Boyzone and Westlife, but would like to be even bigger than they were.
However, after their rendition of the Little Mix track for the judges, the boys were left in no doubt about how far away they are from realising their dream.
Gary Barlow pointed out that the band did not have a stand-out singer. Nicole expressed concern about what they would be like if they were to be voted through to the next round.
Louis Walsh who was delighted to see a new boyband from his home town, told the group:
"You are well rehearsed, you look good. Are you going to be as big as Westfile? I don't know."
In the end Mrs O. summed up the boys performance best by saying:
"You are good, you are not fabulous. I am going to give you the chance to be fabulous, by saying yes."
The other judges followed Mrs O. with yes votes, but warned the boys they need to do a lot of hard work before they meet again.