Boyband Kingsland impressed the judges at their X Factor audition singing Don't You Worry Child by Swedish House Mafia.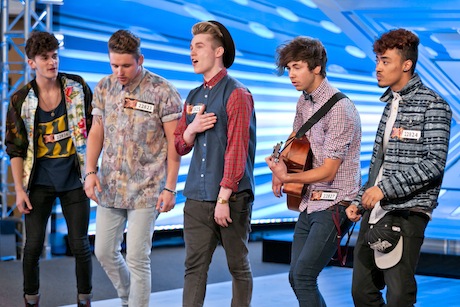 Before their performance, the boys said:
"We were collegemates and we just had this idea of starting a band. We looked on Youtube and social media sites and found these guys and it went from there."
"We have all got jobs in bars and restaurants, we rehearse between shifts, or try to because obviously we work at different times so there is always one guy that has to pull a sickie."
"We live in East London, two share one room and three share the other. It is so cramped. We share rooms to save money. It's very cosy but a bit awkward when we want to bring a girl back."
"When we go into the room today we are going to give everything we've got. All the rehearsals that we've been doing are just for this moment. I'm so scared, I am feeling a bit apprehensive and a bit nervous. This could be the first day of the rest of our lives."
However, although their voices and stage presence impressed the judges during their perfromance, Sharon Osbourne thinks they need to work on their dance and movement a little.
Pointing to one singer she admits:
" Visually it's messy. You doing your Michael Jackson thrusts doesn't go with Lily Allen over here."
Nicole Scherzinger has some points about the dancing too and she also was left uninspired by one members gyrations and told the guys:
"You, Mr Pelvis over there, it's like your pelvis is singing and it's a lot of thrustations!"
In the end the boys did enough on the night to get 4 yeses from the judges.