Relley Clarke, with her very distinctive hair style, made her X Factor début tonight showcasing her talent for the judges.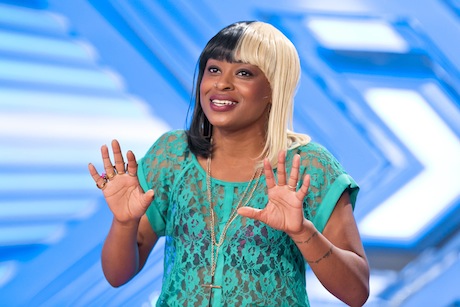 The 23 year old hotel housekeeper from Birmingham performed 'Don't you Worry Child' by Swedish House Mafia, but before singing she spoke about her life to Dermot O'Leary saying:
"It's not a glamorous job but you just have to smile and go with it don't you. If I can get at least one yes I'll be over the moon."
After her performance, the judges told Relley:
Gary Barlow: "Nice audition. I didn't expect that big voice to come from a little person. I think with the right work and coaching we might have something special here. Great voice and a great personality. I can see what it means to you this and you deserve it."
Sharon Osbourne: "You know who you are and that's what makes it so great. I can hear your little accent coming through and it's all you and I love that."
Louis Walsh: "You're very likeable. We liked you before you even started singing. I liked you even more when you started singing. You deserve a chance, no more housekeeping."
Relley got four yeses to go through to the arena auditions.