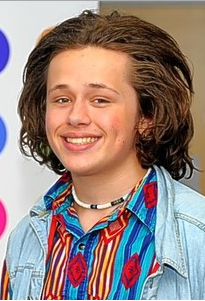 Luke Friend made a great first impression at The X Factor 2013 auditions, not just with his voice but with his unique hair style.
The 17 year old singer from Devon caught X Factor presenter Dermot O'Leary's eye when he stepped into the audition room. Dermot told the singer:
"I'm here today to talk to you about your singing but I'm fixated by your hair. Can I touch your hair?"
Even the judges – Sharon Osbourne, Gary Barlow, Nicole Scherzinger and Louis Walsh was taken aback by the younger's hair and it broke the ice before he went on to perform.
However, the youngster revealed that he has not washed is hair for nearly nine months in order to get it to look the way it does. (I wonder what it smells like?)
Nicole was keen to find out how he achieved his bouffant look and he confessed:
"I haven't washed it in about nine months."
Luke then launched into a rendition of the old classic Stand By Me and it looked very much like the judges approved of his song choice.
After his performance Louis told the wannabe:
"You have your own style your own finish, I love your voice."
Sharon gushed: Luke I am crazy about you! You are quite fabulous.
Gary was a fan too and told the teenager:
"Luke well sung, well presented."
Nicole was his biggest fan though and she was full of positivity as she told Friend:
"Luke you are just a little diamond in the rough! There is something so special about you."
Luke Friend sailed through to the next round with 4 yeses.