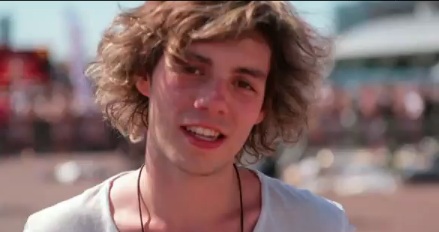 As we all know The X Factor is a show for spotting singing talent, but it is also a show where personality could get you a long way.
If there was a prize for best contestant personality of the series so far, then rocker Eddy String would get our vote.
Eddy, real name Edward Wilkinson, managed to impress the judges at the latest X Factor auditions. However, for us it was his comedy value that impressed, even though Gary Barlow thought he came across at times annoying.
Speaking before his audition, Eddy said: "I like rock and roll, that's why I'm here because I think it needs a bit more rock and roll. When I was about 5 my dad got me listening to Queen and I'd prance around the conservatory, line up the parents and sing 'Killer Queen' to 'em.
"I think you see a lot of people sing Adele or Rihanna, and that's cool but there's loads of them, there's no one who really wears women's jeans singing The Strokes. These are women's jeans, these are women's waxed jeans.
"I want to be doing this headlining one day, wild, that's the dream and that lot on the panel can make it a reality."
Eddy then took to the stage to perform for the panel – Gary Barlow, Tulisa, Louis Walsh and guest judge and former X Factor winner Leona Lewis – on stage at London's huge O2 Arena.
On stage, Gary told him: "You seem at home up there."
"I feel at home," Eddy admitted. "I've never been on stage before but I feel like I've found my place."
Gary replied: "Are you auditioning as a singer today or a comedian?"
To which Eddy quipped: "As a singer, it's the premise of the show."
Eddy performed the Strokes' Last Night for the judges, to rapturous applause from the audience as he jumps on top of he judges' desk and sings to Leona.
Gary Barlow said: "The personality thing is on the edge of being annoying, just tone it back a bit… but I thought it was very good."
Louis Walsh said: "I think you're a very good entertainer, a bit Mika… Russell Brand… if you could calm down it'd be great."
Tulisa said: "When you first came om stage I feared it'd be more cheese string than Eddy String but I loved it."
Leona said: "I really enjoyed it, I felt your energy. I couldn't hear a lot of vocals…"
Four yeses and Eddy was through to bootcamp, but we hope one judge will put him through to the live shows.