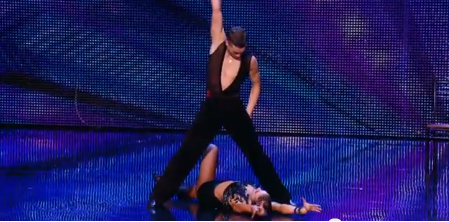 Latin dancers AJ and Chloe wowed once again on Britain's Got Talent with their elegant and precise dancing style.
We loved their audition piece a few weeks ago and it was good to see the teenagers from the Midlands picking up where they left off at their BGT début.
Tonight their staging was brilliant, their choice of music was spot-on and their dancing was simply incredible.
Amanda Holden told the dancers: "It was effortless. You both look stunning. You make me want to get up and join you and I'm be totally rubbish… You've achieved so much through being on tonight's show. Congratulations!"
Simon Cowell added: "I thought it was faultless. It was like you were dancing for the gold medal. You can tell how much work you've put into it and I thought you were brilliant."
And David Walliams concluded: "Just when you think you've seen the best act of the night. Another amazing one comes along… It was fantastic guys, I don't want to distract from that. It was brilliant… That was very intense and powerful."