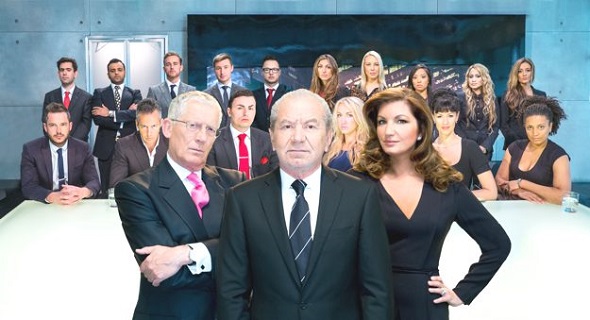 The Apprentice 2013 series kicked off this week with Lord Sugar aided by his trusted lieutenants, Karren Brady and Nick Hewer, in the quest to find a candidate worthy of a £250,000 business investment and to become Lord Sugar's next business partner.
In the first task of the series, Lord Sugar challenged the contestants in a shipping container task where the girls took on the boys to see who comes out on top in the boardroom.
Summoned to the boardroom at midnight, Lord Sugar warns the candidates that clichés won't cut it, and spells out what he is looking for. Then it is onto the task, which is as supersized as their egos. Each team is given a shipping container stuffed with imported products, and the candidates must work through the night to sell the lot.
However, Lord Sugar had a surprise in store for the sixteen hopefuls as they are put on the spot like never before.
Sent straight to the port in the dead of night, the candidates got to see their stock. From Lucky Cats to two tonnes of water, it is a mixed bag, and they only have until 4pm to shift it all. The teams searched London for businesses that will buy; dawn deals were done at a casino and a coach company, but with the clock ticking it was not long before the blunders began.
Both project managers – Jaz for the girls and Jason for the boys – had their work cut out managing the first task of the series.
On return to the boardroom the girls discovered that they had lost the task to the boys. As their reward, the boys were treated to a gourmet meal by a top chef from Fortnum and Mason.
Meanwhile, the girls had to explain to Lord Sugar why they lost the task. After a heated discussion, Lord Sugar delivered his final verdict:
"Jaz, very, very brave move to jump in and be the Project Manager, and I do give you credit for that. Was it clever? I don't think so. Certainly wasn't clever the speed at which you did it," he said.
The boss continued: "Uzma, I was confused why Jaz brought you in here. I've owned businesses, and I've had sales teams where a logistics person is the heart of the company. I understand what that means, and on that basis, you're not in my consideration at the moment.
"Sophie, you didn't sell anything. Jaz was adamant that you were coming back in here, and that tells me that she felt you didn't pull your weight on this task. I have to give that deep consideration."
Lord Sugar concluded: "I think that, Jaz, there was terrible mayhem going on, bad organisation, fatal mistakes made, and I do believe that your biggest mistake was jumping in too quickly. On that basis Jaz, you're fired."
As Jaz left in a black cab, she reflected on her time in the process: "If I had my time again, I'd love to say I wouldn't volunteer, but I know I would. I'm gutted to be fired before I've a chance to show how amazing I am, and I really wanted to go right through to the end of the process because my business plan is phenomenal."