Raymond Blanc served up a delicious pear almondine with flaked almonds on Simply Raymond Blanc.
The ingredients are: 100g unsalted butter, room temperature, 100g caster sugar, 100g ground almonds, 1 teaspoon cornflour, 1 egg, medium, organic/free-range, 1 teaspoon vanilla extract, 8 pear halves, tinned or jarred and 80g melted butter to brush the inside of the tart ring. Or use spray oil.
To serve: A handful flaked almonds (for extra flavour, first toast them in a dry pan) and Icing sugar, for dusting.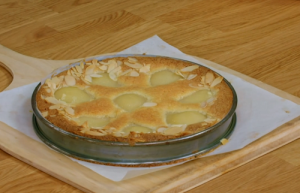 See recipes by Raymond in his book titled: Simply Raymond: Recipes from Home – INCLUDING RECIPES FROM THE ITV SERIES
available from Amazon
now.