Gino D'Acampo serves up carpaccio of tender beef fillet, with a Italian gremolata dressing and rocket salad on Gino's Italian Escape.
The celebrity chef makes this tasty dish in the region of Puglia, in his native Italy as part of his culinary trip around the country.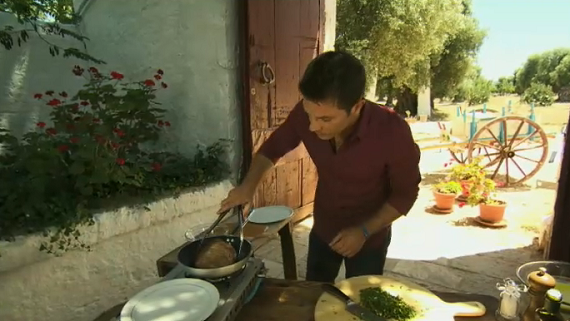 Gino says: "Carpaccio of beef is one of those dishes that every Italian serves on a Sunday. Although fillet beef is expensive, it is cut into thin slices so it goes along way, making you look more generous than you really are! This recipe is ideal to have as part of buffet-style lunch or as a starter."
The Ingredients for the dish are: 500g piece of fillet beef, 2 tablespoons of olive oil, Salt and pepper to taste and Large handful of rocket leaves to serve.
For the herb dressing: Large bunch of parsley, 2 garlic cloves, 1 tbsp salted capers, Juice of ½ lemon and 4 tablespoons extra virgin olive oil.
To prepare the dish, Heat a frying pan on a very high heat.
Season the beef on a plate with salt and pepper, then drizzle with the olive oil and rub it all over to coat it fully.
Place in the hot pan and cook for 2 minutes on each side until golden brown all over, including the ends.
Set aside to rest for 10 minutes. The beef can then be served straight away, or refrigerated overnight.
To make the dressing, finely chop the parsley, garlic and capers (by hand or in a food processor).
Transfer to a bowl, add the lemon juice and olive oil and season well with black pepper and a little salt. The mixture should have the texture of a wet pesto.
Cut the beef into thin slices, then place them flat on a large platter.
Dress the rocket leaves with a little extra virgin olive oil and place in a pile in the centre of the beef. Drizzle the dressing over the top, then serve.