Gino D'Acampo serves up orecchiette vegetarian pasta dish with broccoli, cherry tomatoes and chilli using Angela's Pasta on Gino's Italian Escape.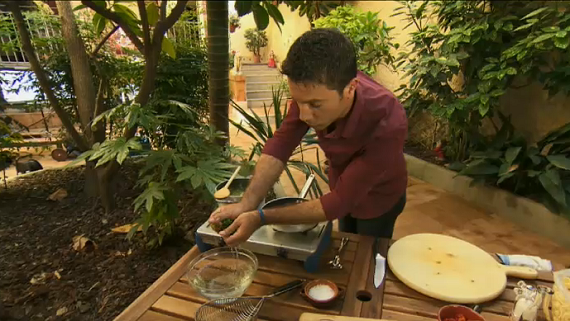 The celebrity chef makes this tasty dish in the region of Puglia, in his native Italy as part of his culinary trip around the country.
Gino says: "I grew up eating orecchiette, the typical pasta shape of Puglia. The name translates as 'little ears', which is exactly what the shape resembles. Italian grandmothers traditionally make the pasta by hand, shaping it while having a good old chat. The hollow in the little ears perfectly entraps whatever sauce they are served with."
The ingredients are: 6 tablespoons of olive oil, 1 garlic clove, peeled and finely chopped, 1 small red chilli, deseeded and finely chopped, 6 small cherry tomatoes, 2 tablespoons of finely chopped fresh parsley, 500g orecchiette, 200g broccoli florets, 40g freshly grated pecorino cheese to garnish (optional), salt and pepper to taste.
To prepare the dish, heat the olive oil in a pan over a medium heat. Add the garlic, chilli and tomatoes and fry for 2–3 minutes until the tomatoes are softened. Stir in the parsley.
Meanwhile, cook the pasta in a large pan of boiling salted water until 1 minute away from being al dente. At that point, add the broccoli florets and cook for 1 minute.
Drain the mixture and add it to the sauce. Mix well and season to taste.
Pile the pasta into serving bowls or deep plates, and grate some Pecorino over it, if desired.