Ching-He Huang served up tasty hoisin chicken thighs with pineapple and mushroom fried rice on today's episode of Lorraine.
The ingredients are: 3 organic chicken drumsticks, skin on, 4 organic chicken thighs, skin on and 1 spring onion, finely sliced for garnish.
For the marinade: 2 tablespoons hoisin sauce, 2.5cm freshly grated root ginger, 1 tablespoon of Shaosing rice wine or dry sherry, 3 tbsp premium light soy sauce, 1 tbsp premium dark soy sauce, 1 tbsp soft brown sugar and 1 tbsp rapeseed oil.
For the fried rice: 1 tbsp rapeseed oil, 2.5cm fresh root ginger, peeled and finely grated, 1 red chilli, deseeded and finely chopped, 100g carrots, top, tailed, peeled, diced, 100g French beans, top, tailed, slice to 0.5cm rounds, 1 small tin of sweetcorn, drained, 150g shiitake mushrooms, sliced into strips, 350g cooked Jasmine rice, 1 tbsp vegetarian mushroom sauce, 1-2 tbsp premium light soy sauce, 1 small pineapple, sliced into 2 halves, middle scooped out and diced, 1 large pinch of ground white pepper and 1 tsp pure sesame oil.
To garnish: 2 spring onions, washed, top, tailed, sliced into rounds.
To serve: 1 tsp drizzle of Chiu Chow chilli oil.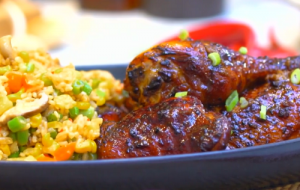 See recipes by Ching in her book titled: Wok On: Deliciously balanced Asian meals in 30 minutes or less available from Amazon now.