Allegra McEvedy and daughter Delilah, served up tasty pizza wheels with tomatoes, tapenade and pesto on Steph's Packed Lunch.
The ingredients for the tomato sauce are: 2 banana shallots, peeled and chopped, 2 cloves garlic, peeled and chopped, 1-2tbsp tomato puree, Large pinch dried oregano and 50g semi-dried tomatoes in olive oil.
For the pesto: 30g parmesan, roughly chopped, 5g garlic, peeled and finely chopped, 30g pinenuts, toasted, 45g basil leaves, picked and 50ml extra virgin olive oil.
For pizza wheels: A light scattering of flour, A 15cm x 15cm square of puff pastry, 2 heaped tbsp of rich tomato sauce, as above, 1tsp pesto, as above, 150g mozzarella cheese, grated, 40g parmesan and 1 egg, whisked with 1tbsp whole milk to make an egg wash.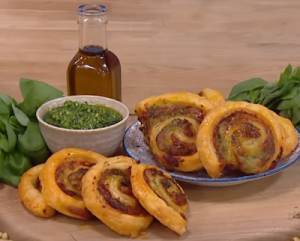 See recipes by Allegra in her book titled: Economy Gastronomy: Eat well for less available from Amazon now.