Simon Rimmer served up a delicious blueberry and coffee crumble cake on Sunday Brunch.
The ingredients are: 150g butter, 150g sugar, 3 eggs, I vanilla pod, scrape out the seed, Zest 1 lemon, 150ml sour cream, 250g plain flour, tsp baking powder, 50ml strong espresso, tsp bicarb and 225g blueberries, tossed in a little flour.
For the crumble topping: 50g sugar, 75g light brown sugar, tsp ground cinnamon, tsp powdered coffee, 125g butter, cubed and 225g plain flour.
Whipped cream or mascarpone to serve.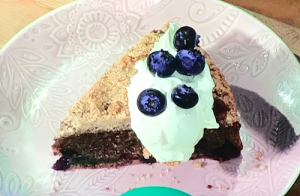 See recipes by Simon in the book titled: The Sunday Brunch Cookbook: 100 of Our Super Tasty, Really Easy, Best-ever Recipes
available from Amazon
now.