Prue Leith showcased her delicious sable Breton tart with raspberries, strawberries, pistachio cream, meringue kisses and chocolate curls for today's technical challenge on The Great British Bake Off.
The ingredients for the sable dough are: 170g plain flour, 1 tsp baking powder, ¼ tsp fleur de sel, 125g unsalted butter, at room temperature, cubed, 4 egg yolks and 100g caster sugar.
For the meringue kisses: 1 egg white, 60g caster sugar and pinch of salt.
For the raspberry jam: 350g raspberries, 120g jam sugar and 2g pectin.
For the chocolate decorations: 90g 54% dark chocolate, chopped into pieces.
For the pistachio paste: 75g pistachios, 2 tsp pistachio oil and 10 drops pistachio extract.
For the creme mousseline:250ml whole milk, ½ vanilla pod, split lengthways and seeds scraped out, 4 egg yolks, 50g caster sugar, 35g plain flour, sifted and 100g unsalted butter, at room temperature, cubed.
To decorate: 30 strawberries, hulled and halved, 10 raspberries and 2 sheets of gold leaf.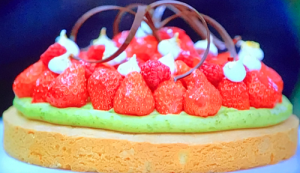 See recipes by Prue in her book titled: Prue: My All-time Favourite Recipes
available from Amazon
now.