It's the start of the second week of MasterChef 2014 and six new cooks make their début in the MasterChef kitchen to showcase their cooking skills delivering recipes that they hope will wow the judges.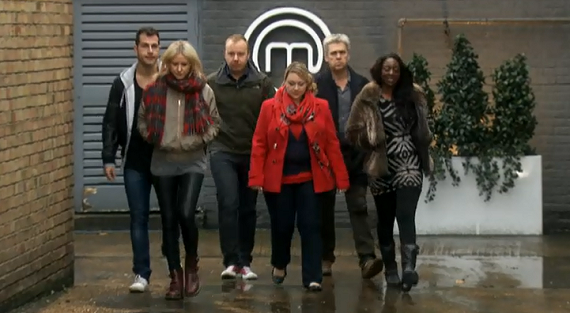 Standing in their way are three challenges and two judges – John Tordoe and Gregg Wallace.
The cooks that are cooking for survival on the fourth day of the series are:
Cerliyah, 33, Restorative Justice Co-ordinator
Thomas, 29, Personal Trainer
Mark, 51, Marketing Consultant
Sofia, 33, Stylist
Susie, 31, Sales Manager
Michael, 30, Training Director.
For their first challenge, the contestants were asked to cook their calling card, a practised dish that represents who they are as a cook. They had just one hour to dazzle the judges with one plate of food that showed just what they can do. This is what they served up:
Celiyah – a sweet potato cake and red bream and Scotch bonnet sauce – fish cooked well, potato cake a bit big.
Thomas – duck a l'orange with Earl Grey tea – tastes only of smoke, a bit raw.
Mark – deconstructed carbonara raviolli – well done to keep egg yolk soft, sauce a bit thick and claggy, good skills.
Sofia – chanterelle ravioli – looks beautiful, ravioli a bit wet 'cos mushrooms were washed, good flavours.
Susie – squid ink tagliatelle with prawns and squid and salsa verde– two dishes on one plate.
Michael – pork chop with chard, turnip, capers and anchovies – superb, good crackling, Gregg and John bot like it.
They then faced the infamous invention test, choosing between two sealed boxes of ingredients – one sweet and one savoury. Chef John Torode also takes on this challenge himself, showing the viewers at home just what is possible with the few ingredients. He makes Crum chicken livers with potato and onion pancake that would grace any dinner table.
The sweet ingredients for today include mango, pears, limes, pudding rice, eggs and ground almonds, while the savoury box contains mackerel, chicken livers, horseradish, beetroot and basmati rice.
The amateur cooks had just one hour to prepare a dish good enough to keep them in the competition before two are sent home.
The four remaining cooks faced one more challenge to obtain a place in the quarter-final. They had to cook an impressive menu for some very special guests: 2010 MasterChef champion, Dhruv Baker, joins 2009 finalist Chris Gates and 2007 finalist Hannah Miles.
After the invited guests gave their verdict on the food prepared by the four cooks, John and Gregg decided on the two who will take the next step in the competition and go through to the quarter-finals.
The two cooks that won the day and made it to the quarter-finals of MasterChef 2014 are Susie and David.