It's week 2 of MasterChef 2014 and another Invention Test awaits the new batch of contestant on today's show.
The contestants will be presented with two sealed boxes of ingredients – one sweet and one savoury. The sweet ingredients include mango, pears, limes, pudding rice, eggs and ground almonds, while the savoury box contains mackerel, chicken livers, horseradish, beetroot and basmati rice.
However, before the cooks are let loose with the ingredients, chef John Torode takes on the challenge himself, showing the viewers at home just what is possible with the few ingredients. He opts for the savoury box and serves up a Crumb chicken livers with potato and onion Pancake with watercress dish.
For the amateur cooks, they have just one hour to cook a dish good enough to keep them in the competition. The two that produce the least impressive dish as judged by John Torode and Greg Wallace, will see their Masterchef experience cut short as they board the bus home.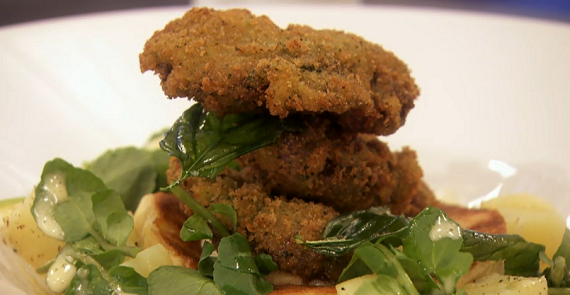 See how John prepares his dish in this video: