Ruby Bhogal – Great British Bake Off finalist – served up her impressive Hollywood handshake samosas on Steph's Packed Lunch.
The ingredients are: 260g organic Maris Piper potatoes, peeled, 2 tsp salt, plus extra for the potatoes, 1 1/2 tbsp vegetable oil, 20g organic white onions, peeled and sliced, 1 1/4 tsp cumin seeds, 100g organic white onions, peeled and chopped, 50g frozen peas, 2.5 green finger chillie's, 1 tsp garam masala, 15g ginger root, peeled and chopped and 7.5g fresh coriander.
For the samosa pastry: 3 tbsp ghee, 7 tbsp water, 250g plain flout and a pinch of salt.
For the pastry glue: 2 tsp plain flour and 3 tsp wter.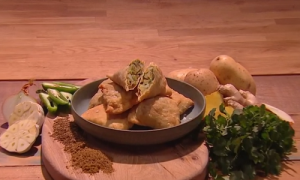 See more samosas recipes in the book titled: The Samosa Cookbook: 50 Delectable Samosa Recipes available from Amazon now.