Joseph Denison Carey cooked a delicious tagliatelle carbonara with fresh pasta and guanciale (cured pig's cheek) on This Morning.
The ingredients are: 2 whole large eggs, 2 egg yolks (large) , 250g pasta flour, 25g guanciale (or pancetta), cut into small cubes , A handful of pecorino (or Parmesan), finely grated, 2 egg yolks and Black pepper.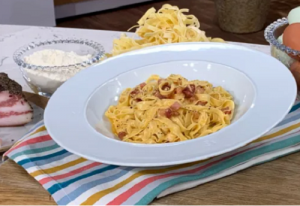 See more pasta making recipes in the book titled: Homemade Pasta Made Simple: A Pasta Cookbook with Easy Recipes & Lessons to Make Fresh Pasta Any Night available from Amazon now.