Simon Rimmer served up a peanut butter conundrum with a delicious sweet sauce and a savoury sauce on Sunday Brunch.
The ingredients are: 120g of cream cheese, 120g of peanut butter, 12 strips of filo pastry , 75mm wide and as long as the shortest side of filo, 1 tsp of peanut butter, 1 tsp cream cheese, for each edge of each strip of filo and 100ml honey.
For the sweet sauce: 250g strawberries, 100g icing sugar and 1tsp vanilla essence.
For the savoury sauce: 2 chopped red peppers, 1 chopped scotch bonnet, 50g sugar, 30ml red wine vinegar, 1 tsp salt and 150ml veg stock.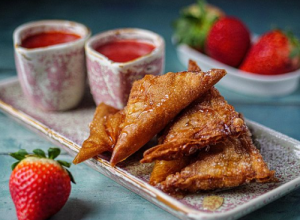 See more Sunday Brunch recipes in the new book titled: The Sunday Brunch Cookbook: 100 of Our Super Tasty, Really Easy, Best-ever Recipes
available from Amazon
now.