James Martin served up a delicious warm banana bread with toffee bananas, pecan, maple syrup and vanilla ice cream on James Martin's Saturday Morning.
The ingredients are: 400g butter, 400g caster sugar, 400g Self Raising flour, 6 eggs, 4 bananas, 100g butter, 6 bananas peeled, 100g caster sugar, 200ml double cream, 50ml maple syrup, 100g pecans and Splash of brandy.
To serve: Vanilla ice cream and Extra maple syrup.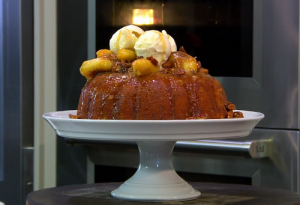 See recipes from James Martin in his book titled: More Home Comforts: 100 new recipes from the television series
, available at Amazon
now.