Two young London entrepreneurs showcased their ice lolly business on today's episode of James Martin: Home Comforts showing how they have brought new life to a childhood classic treat.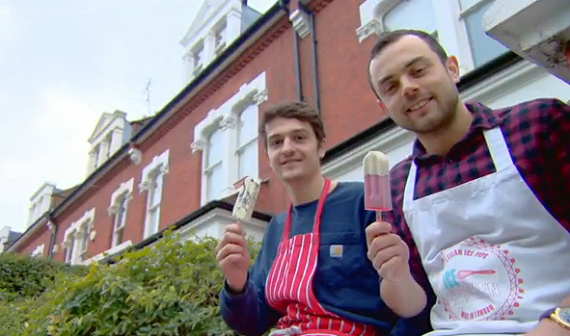 The pair set up their company – Ice Kitchen – in spring 2013, with the aim of bringing the London food scene a refreshing new product with their Gourmet Artisan Ice Lollies, creating not only classics flavours but also putting a twists on classics with surprising and unexpected flavour combinations.
They got their inspiration after co-founder Cesar Roden went to New York and found out that a favourite treat for many when the sun shines in the city, is a fine ice lolly. He returned to the UK with retro recipes and a head full of ideas.
All Ice Kitchen's products are handmade in small batches daily, using fresh fruits, yoghurt, cream, nuts, chocolate, herbs and spices and other natural flavourings.
Ice Kitchen is fast making ice lollies cool again.