Chef Phil Vickery puts a twist on the traditional – roast fore rib of beef, creamy potato gratin and Yorkshire puddings – in the This Morning kitchen.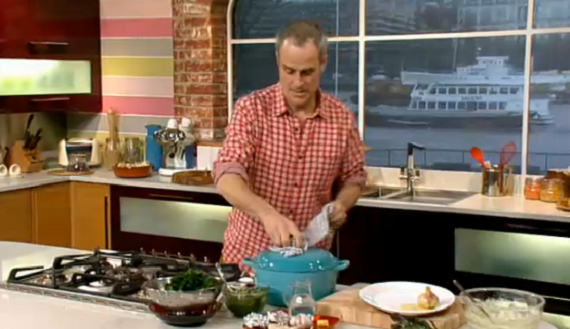 For his superb dish that is easy to prepare and ideal for the weekend, Phil used the following ingredients:
1.5kg piece of forerib with no added fat rolled and tied, well hung, olive oil, 20 small shallots, 500g baby new potatoes, 4 large carrots, peeled and chopped roughly, 4 tbsp veg oil, salt and pepper.
To prepare the dish: Preheat the oven to 200°C then place the beef on a large piece of scrunched up foil and season well with salt and pepper.
Pour over the oil and place into the oven for 45 minutes. After the time has lapsed, place the baby potatoes, carrot chunks, peeled whole shallots around the joint of beef and run over a little oil, not too much, season well with salt and pepper.
Put the tray back into the oven and cook for about 25 – 30 minutes for medium rare, or 50-55 minutes, leave to rest for 15-20 minutes, covered with foil. Turn the potatoes, carrots and shallots occasionally.
After the potatoes carrots and shallots are cooked and nicely browned, remove them from the oven and keep warm and cook the meat for up 30 minutes more if you want the meat well done.