Tom Kerridge served up a tasty peanut chicken stir-fry noodles on Tom Kerridge's Fresh Start.
The ingredients for the peanut sauce: 3 tbsp crunchy peanut butter, 2 tbsp tahini, 3 tbsp soy sauce, 3 garlic cloves, grated, 2.5cm piece fresh ginger, grated, 2 tbsp honey, 1 tbsp Sriracha hot sauce and 1 tbsp rice wine vinegar.
For the chicken noodles: 750g fresh udon noodles (or 3 x 250g pouches)
2 tbsp vegetable oil, 3 large skinless, boneless chicken breasts, thinly sliced, ½ tsp Sichuan peppercorns, crushed, 2 carrots, peeled and cut into thin strips, 200g mangetout, 1 tsp sesame oil and 4 spring onions, finely sliced on an angle.
For the chilli dressing: 100g caster sugar, 50ml red wine vinegar, 1 tbsp chilli oil and 2 tbsp finely chopped mint leaves.
To finish: 50g roasted peanuts, roughly chopped and ½ cucumber, finely sliced.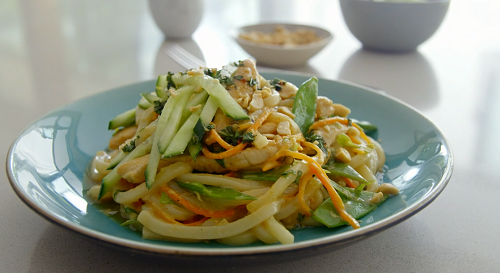 See Tom's recipes in his book titled: Tom Kerridge's Fresh Start: Kick start your new year. Eat well every day
available from Amazon
now.