Simon Rimmer served up a tasty Peruvian Roast Chicken With Green Mayo on Sunday Brunch.
The ingredients 1 x 3lb chicken – spatchcocked.
For the rub: 3 cloves garlic, tbs ground cumin, tbs olive oil, tbs paprika, tsp dried oregano, tbs salt, tsp black pepper (5g) and juice and zest 2 lemons.
For the mayo: Bunch coriander, chopped, 1 green chilli, clove garlic, juice and zest 2 limes and 125g mayo.
For the salad: 250g cooked baby new spuds, cold, 1 chopped avocado, handful rocket, 3 finely sliced spring onions, 1 half mooned cucumber and dress with extra virgin olive oil and lemon and salt.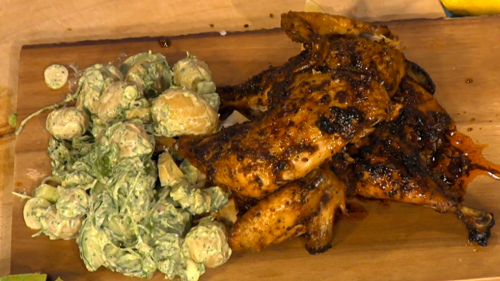 See more recipes from Simon in his book titled: The Accidental Vegetarian: Delicious food without meat
available from Amazon
now.