Tom Kerridge served up a tasty low calorie lamb doner kebab with yoghurt and mint dressing on Lose Weight For Good.
The dish comes in at just 650 calories per serving.
The ingredients are: 175g 20% fat lamb mince, 175g diced lamb leg meat, visible fat removed, 2 garlic cloves, finely grated, ½ tsp flaky sea salt, ½ tsp bicarbonate of soda, 2 tsp ground cumin, 1 tsp ground paprika, 1 tsp onion powder, 1 tsp dried oregano, pinch dried chilli flakes and freshly ground black pepper.
For the yoghurt sauce: 100ml 0% fat plain yoghurt, 2 tbsp finely chopped mint leaves, pinch granulated sweetener and pinch salt.
To serve: 2 medium corn tortillas, 40g iceberg lettuce, shredded, 50g cucumber, thinly sliced, 2 tomatoes, thinly sliced, ½ small red onion, thinly sliced, 6 pickled chillies and hot sauce (optional).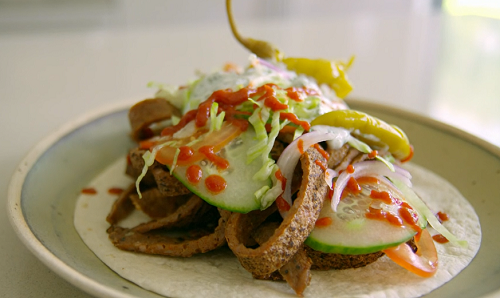 See Tom's recipes in his book titled: Lose Weight for Good: Full-flavour cooking for a low-calorie diet
, available from Amazon
now.