Today Paul went in search of seaweed on the east coast of Scotland to find some that he could use as a special ingredient in his traditional apple and blackberry crumble.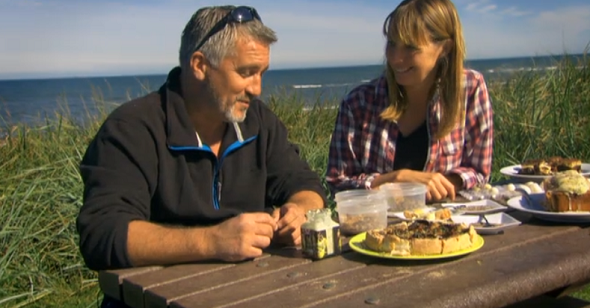 However, Paul embarked on his seaweed hunt, yet to be convinced that this vegetation from the sea can be used in a sweet dish. To persuade him otherwise, he met with seaweed expert Fiona Houston who runs a small business selling seaweed as a spice rather than a vegetable.
Fiona tells the master baker that seaweed is a natural flavour enhancer with a variety of flavours that adds a new taste dimension to food.
Fiona offers Paul samples of her seaweed delights for the master baker to try. After sampling her nibbles, Paul was convinced that it was worth giving seaweed a try in his apple and blackberry recipe.
To make his crumble, Paul put apples, butter and sugar in a pan. He cooked them over a medium heat for about 10 minutes, stirring from time to time, until the sugar has dissolved and the fruit was just beginning to collapse. He then placed it in a cooling bowl and added blackberries and transferred the mixture to an oven dish and set aside.
To make the crumble topping, he combined flour, oats, powdered seaweed and sugar in a bowl. Add butter and rub in lightly until the mix resembles coarse breadcrumbs.
He chops the seeds so they break down a little and stirred in the crushed seeds into the crumble mixture.
He spooned the crumble mixture over the filling and bake for 35 minutes at 180 degrees.