22 year old Alex Mills from Cardiff in South Wales is one of this year's candidates in the race to win the £250,000 business investment from Lord Sugar in The Apprentice 2013 series.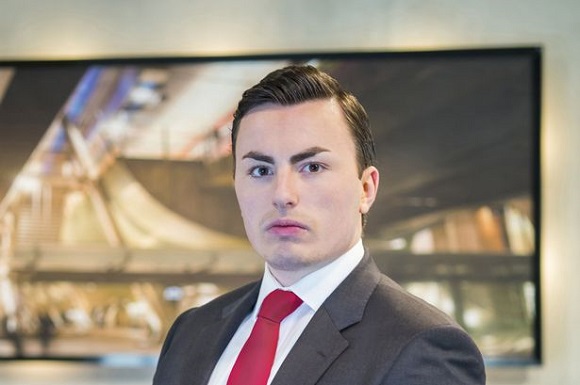 Alex, who is currently a director of a legal services company, is from a city whose football club gained promotion to the premiership this year. We will have to wait and see if any of this good fortune rubs off on him as he competes for the prize.
Alex says his greatest strengths lie in design and calculations and he describes himself as passionate, hardworking and determined. He began his working life as a housekeeper in a hotel and started his first company at 19. He is inspired in business by brands such as Tom Ford and figures such as James Caan, and enjoys playing the guitar and sport shooting in his spare time.
He says: "I'm an old head on young shoulders. I believe that I'm the new breed of businessman that this process requires."
Alex joins 15 other candidates all hoping to become Lord Sugar's next business partner.
The first task for Alex and the other 15 candidates takes place at midnight with Lord Sugar asking the candidates to sell a shipping container load of goods to London's trade in just one day. From novelty items to household necessities, each team must find suitable buyers for their different product lines and the team that makes the most money from the day's sales will be declared the winner.
The series kicks off Tuesday 7th May on BBC 1.