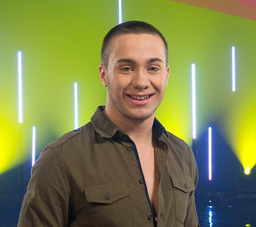 Lucas Macfarlane was tonight crowned the winner of Got To Dance 2013. Lucas finished in the top 3 along with Ruff Diamond and Gymtasia Evolution after competing with the 7 other acts who made it to the live finals at London's Olympia arena.
On a night were it was difficult to predict who would win this year's competition, it was surprising to see Gymtasia Evolution in the final three after receiving two red stars from the judges. The acrobatic gymnastics dancers also received two red stars from the judges during the semi-finals, so it does prove that the public are not influenced by the judges when it comes to supporting their favourite act.
However, it was Lucas Macfarlane who came away with the £250,000 cash prize and the title of Got To Dance Champion 2013.
His performance saw the judges on their feet giving the Canadian dancer a standing ovation. Ashley Banjo told him: "Normally I find it quite easy to put what I want to say in to words, but with you I can't. I have never, ever been so inspired by a dancer in my life.
"Honestly you have changed my entire outlook on this competition and what to expect of people in this competition. You've raised the bar of Got to Dance."
Kimberley Wyatt added: "Such a proud moment. When you perform, you have me in the palm of your hand."
Before the result was announced, Ashely Banjo and his Diversity dance crew treated the audience to a routine from their upcoming tour. It was the usual amazing performance we come to expect from this very professional outfit and each time they take to the stage it serves as a reminder to the finalist the standards they will have to aspire to once the competition is over.
For us Lukas Macfarlane is a worthy winner and this is just the start of great things to come for this young dancer.