Antics and Godson are the two acts that made it through to the Got to Dance 2013 live final this week after securing the most public votes on the fourth Got To Dance live semi-final show this year.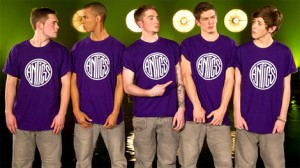 Street crew Antics and krumper Godson, saw off strong competition from four other acts to claim the seventh and eighth places in the grand final, which takes place in two weeks' time.
Antics will be making their second appearance in the Got to dance final, after they reached the top ten acts in last year's series. During their audition JLS star Aston Merrygold complemented them by saying they were the dancing One Direction. The street dance crew seem to have paid attention to this statement as they devoted part of their routine to One Direction dancing to one of boyband's hit singles.
After their performance Ashley Banjo told the dance crew:  "You're entertaining, you've got comedy, you've got tricks, you've got slick choreography. The dancing One Direction, it's the full package."
"As a group you're so dynamic and clean and clever in the way you structure your performance and choose your music. As individuals you're so impressive and talented," added Kimberly Wyatt.
Later Godson took to the stage and left the judges speechless with his routine, which ended with him ripping off his vest.
"I'm supposed to have the six pack on this show and if you don't put your shirt back on you're not getting a gold," joked Aston Merrygold.
After catching her breath, Kimberly gushed: "You're such an athlete, everything is just precision, power, dynamicism, then you mix it up and put in that smoothness and it's just… you got it right!"
This week's guest performance came from a supergroup consisting of former Got To Dance contestants Boadicea, Methods of Movement, Unity UK, and series one winner Akai. Akai was simply amazing!