Raymond Blanc cooked grilled asparagus with vegetable crumble for an ideal springtime meal on Kew On A Plate.
Raymond says: "Asparagus served in the classic way is delicious, but I wanted to mix the flavours of the spring with the warmer flavours and textures of the summer. I've spiced things up a little with the slight smokiness that comes from griddling or barbecuing asparagus, a large sprinkling of smoked paprika and a hint of chilli."
The ingredients for the paprika dressing: 3 tbsp extra virgin olive oil, ½ tsp smoked paprika and 2 tsp lemon juice.
For the hard-boiled eggs and grilled asparagus: 2 free-range eggs, 20 green asparagus spears, woody ends removed and 90–120ml refined olive oil.
For the vegetable crumble: 3 tbsp olive oil, 80g baby courgettes (about 2½), pulsed in a food processor for 30 seconds, 80g cauliflower, pulsed in a food processor for 30 seconds, 30g banana shallot, finely chopped, ½ red chilli, finely chopped, 3 large pinches of smoked paprika, pinch of salt, 2 tbsp lemon juice, 10g fresh parsley, chopped and 5g fresh chives, chopped.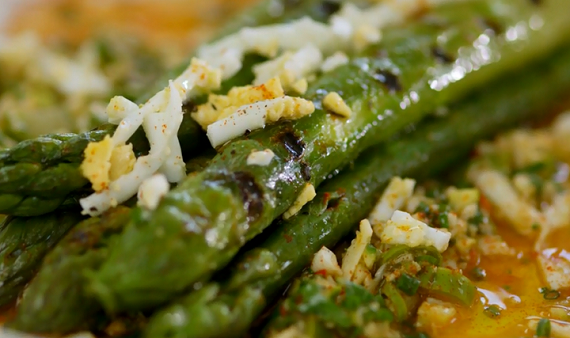 See the recipe in the book to accompany the series: Kew on a Plate with Raymond Blanc (Kew Gardens)
available from Amazon
.