Gino D'Acampo cooks sea bass in a caper and butter sauce on Gino's Italian Escape: A Taste Of The Sun.
The inspiration for his dish came when he travelled to Northwest Italy to visit the picturesque region of Liguria, where the coast meets the mountains.
As a chef and keen fisherman, Gino was very excited to sample the Ligurian cuisine. His first stop was at the pretty coastal town of Camogli where he met a family who make a living from 'pescaturismo' – or fishing tourism.
The family took Gino out to sea to experience what life is like for Camogli's fishermen. The calm waters and warm sunshine create perfect conditions – and the fresh catch was eaten for lunch on the boat.
Motivated by his marine experience, Gino decided to cook a plate of succulent sea bass in a caper and butter sauce. This is served with griddled carrots marinated in white wine vinegar, garlic and mint.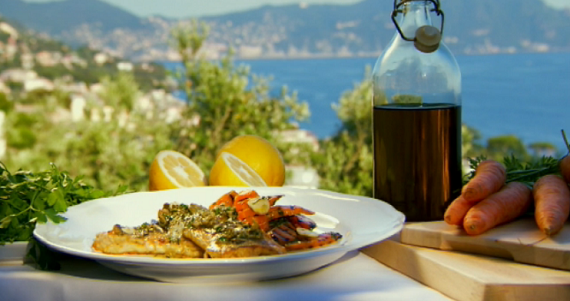 Gino's recipe is available in his new book:A Taste of the Sun: Gino's Italian Escape (Book 2)
available at Amazon
.