Ken Hom celebrates 30 years of television cooking up a quick and easy beef with black bean sauce stir fry with vegetables for all the family.
The ingredients are: 450 g (1 lb) lean beef fillet, 1 tablespoon Shaoxing rice wine or dry sherry, 1 tablespoon light soy sauce, 2 teaspoons sesame oil, 1 teaspoon cornflour, 1½ tablespoons groundnut or vegetable oil, 1½ tablespoons fermented black beans, coarsely chopped, 1 tablespoon garlic, finely chopped, 3 tablespoons spring onions, finely chopped, 1 tablespoon shallots, chopped, 1½ tablespoons light soy sauce, 1 teaspoon sugar, 1 tablespoon chicken stock and 1 tablespoon sesame oil.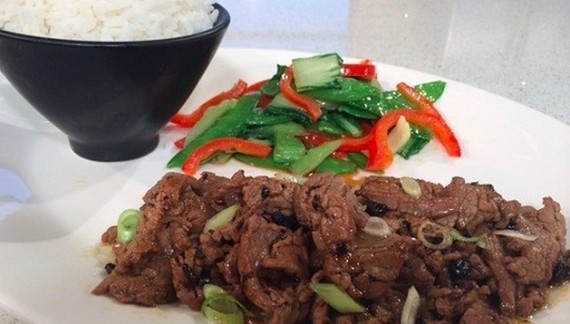 Ken also showcased some delicious looking lotus seeds cakes.