It is week two of the Great British Bake Off and the remaining contestants take on another technical challenge to impress judges Mary Berry and Paul Hollywood. Today it is one of Mary Berry's recipes, florentine biscuits that provided the technical challenge for the contestants.
A Florentine biscuit is an Italian pastry made from setting nuts and candied cherries into a caramel disc, which is then often coated on the bottom with chocolate.
The bakers had to bake 18 florentine biscuits to Mary's recipe with zig zag chocolate on top of each one.
Mary says: "These biscuits are pretty tricky to make to get them absolutely perfect. They should have a lacy appearance, evenly baked and the chocolate evenly distributed. The chocolate must also be at the right temperature to prevent it from leaking through the biscuits."
Typically the ingredients for a good quality florentine biscuit would consist of: 25g butter, 75g golden caster sugar, 10g plain flour , 65ml double cream, 50g whole almonds, cut into thin slivers, 50g ready-flaked almonds, 50g whole candied peel, 25g glacé cherries, 25g angelica, and 175g dark chocolate (minimum 70% cocoa solids).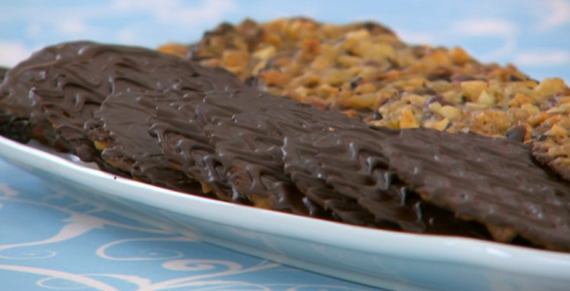 The recipe is one of many that can be found in Mary's latest baking book Simple Cakes
avaliable from Amazon
.