Si and Dave serve up a French inspired dish, Chicken with forty cloves of garlic served with colcannon, on Best of British.
The Bikers says: "This dish isn't usually cooked with shallots but we've added a few to make the sauce extra delicious. To make a richer sauce from the cooking liquor, you can stir in freshly chopped tarragon and some double cream or crème fraîche. Not traditional, maybe, but very delicious.
The ingredients are: 250g shallots, 1.35kg oven-ready fresh chicken, ½ lemon, halved, 1 large bay leaf, 1 tbsp finely chopped fresh thyme, 25g butter, 1 tbsp sunflower oil, 40 garlic cloves (from 2-3 bulbs), unpeeled, 150ml vermouth, 250ml chicken stock , 2 tbsp chopped fresh tarragon leaves, 100ml double cream or crème fraîche, flaked sea salt and freshly ground black pepper, 1 baguette.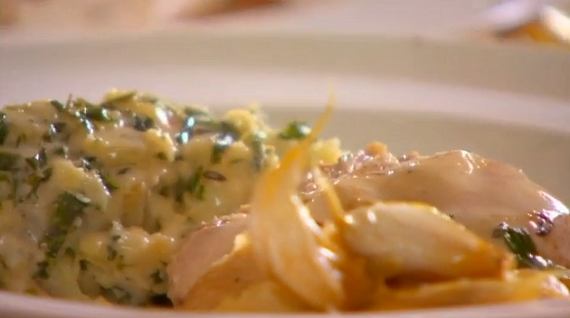 See how the Bikers prepare their chicken dish in this video.