Jeremy Pang served up tasty Cinnamon Bao Doughnuts and Chocolate Sauce on Jeremy Pang's Asian Kitchen.
The ingredients for the dao dough are: 200g self-raising flour, plus extra for rolling, 2 tbsp caster sugar, 1½ tsp baking powder, 1 pinch fine sea salt, 100ml full-fat milk (replace with water if vegan), 1 tbsp Rice Vinegar, 1 tbsp sunflower oil, plus 1–2 tsp for coating the dough.
For the cinnamon sugar: 10g ground cinnamon and 90g caster sugar.
For the chocolate sauce: 240ml milk, 300ml double cream, 1 vanilla bean, halved lengthways, 4 egg yolks, 75g caster sugar, 1 tbsp cornflour and 100g dark chocolate, roughly chopped.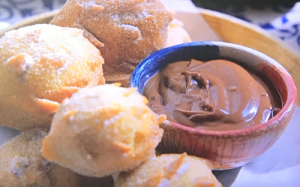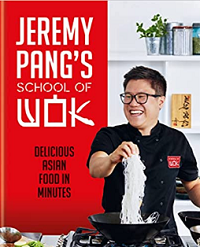 See recipes by Jeremy in his book titled: Jeremy Pang's School of Wok: Delicious Asian Food in Minutes available from Amazon now.