James Martin served up tasty pan fried plaice fillets with potted shrimp, peas, broad beans and asparagus on James Martin's Saturday Morning.
The ingredients are: 1 large plaice , filleted, 1tbs veg oil and 25g butter.
For the Vegetables: 100g fresh peas, 100g asparagus tips, 100g broad beans, 100g mangetout, Small bunch of wild garlic and 1 lemon, juice only.
For the butter: 200g butter, softened, 100g potted shrimp and Pinch of mace, paprika and cayenne.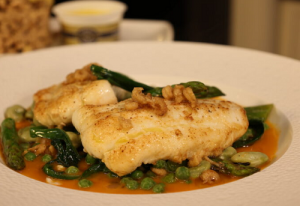 See recipes by James in his book titled: Complete Home Comforts: Over 150 delicious comfort-food classics available from Amazon now.