Asma Khan served up a tasty Navratan Korma with Sada Pulao (Rice with Cashew Nuts and Raisins) on James Martin's Saturday Morning.
The ingredients for the Navratan Korma are: 1kg mixed vegetables, 6 tbsp vegetable oil, 2.5-cm piece of cassia bark, 2 green cardamom pods, 1 clove, 1 large bay leaf, 2 large onions, cut in half and thinly sliced, 3–4 garlic cloves, crushed, 6-cm piece of fresh ginger, grated, 2 tsp ground coriander, 1 tsp chilli powder, 1/2 tsp sugar, 2 tsp salt, 250g full-fat Greek-style yoghurt, 400ml thick coconut milk and 2 tbsp ground almonds.
For the Sada Pulao: 300g basmati rice, 5 tbsp vegetable oil or ghee, 2 green cardamom pods, 2.5-cm piece of cassia bark, 2 cloves, 1 large Indian bay leaf (tej patta), 50g cashew nuts, 70g raisins or dried cranberries and 1 small–medium white onion, thinly sliced 1 tsp salt.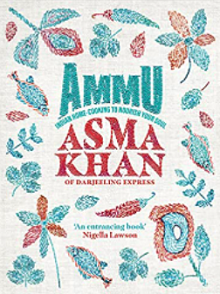 See recipes by Asma in her book titled: Ammu: Indian Home-Cooking To Nourish Your Soul available from Amazon now.