Claude Bosi a tasty white asparagus soup with cream, Saint-Felicien cheese and toasted rice on James Martin's Saturday Morning.
The ingredients are 500g white asparagus (for the velouté) 200g white asparagus (for the dice),
1 lemon, 250ml whipping cream, 200ml milk, 360g blitzed Saint-Félicien, 180g whipping cream, 3 leaves gelatine, 1 litre veg oil, 25g black Canadian rice 250ml grapeseed oil and 100g Carnaroli rice.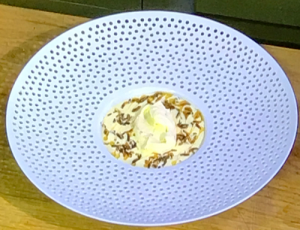 See recipes by James in his book titled: Complete Home Comforts: Over 150 delicious comfort-food classics available from Amazon now.