Phil Vickery served up tasty spiced lamb kebabs with flatbread, couscous and a yoghurt pistachio dip on This Morning.
The ingredients are: 500g ground lean mince, 2 tbsp chopped fresh coriander, 2 tbsp chopped fresh parsley, 2 cloves garlic crushed, 4 spring onions, finely chopped, 2 tsp finely chopped fresh ginger, 1 tsp ground cumin, Freshly milled black pepper, Pinch of dried red chilli, 0.5 medium egg white, lightly beaten, 2 tsp black onion seeds and Salt.
For the flatbread: 250g plain flour, Half 7g sachet yeast, 3.5 g roughly, 1 tsp caster sugar, Pinch of salt, 2 tbsp olive oil and 200ml warm water roughly.
To top the flatbread before cooking: Olive oil, 3 tsp cracked black pepper, 2-4 tsp Za'atar spice blend, 3 tsp paprika and Sea salt, to season.
For the yoghurt pistachio dip: 250g thick Greek yoghurt, 2-3 tbsp finely chopped fresh mint, 100g pistachios, toasted chopped, not to fine but not too rough, 2 red peppers, roasted really well, then pureed and 4-6 tbsp runny honey.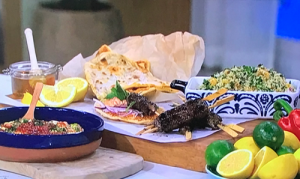 See recipes by Phil in his book titled: Save Money Good Diet: The Nation's Favourite Recipes with a Healthy, Low-Cost Boost
aviialble from Amazon
now.