Mary Berry showed Mark, Callum and Thaer how to make her delicious four-tier clementine cake with buttercream on Mary Berry's Fantastic Feasts.
The ingredients are: 1/2 clementine pulp (1 fruit boiled for around 20 minutes), 4 eggs, 225g baking spread, 275g caster sugar, 275g self raising flour, tsp mixed spice, tsp cinnamon and tsp baking powder.
For the icing: 225g butter, 350g icing sugar and 1/2 clementine pulp.
For the crystallized clementine topping: skins of two clementines cooked in a sticky glaze made with 2 tbsp marmalade and 2 tbsp water.
To complete the topping: 100g caster sugar.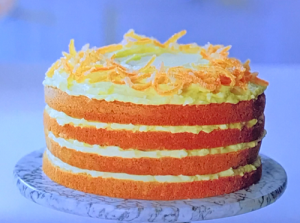 See recipes by Mary in her book titled: Love to Cook: 120 joyful recipes from my new BBC series available from Amazon now.