Suzie Lee served up tasty sweet and sour pork with carrot, tomato, peppers and rice on This Morning.
The ingredients are: 500g Pork shoulder/butt – sliced then chopped into bite size pieces against the grain of the meat), 1 tbsp cornflour , 1 tbsp light soy sauce , ½ tsp white pepper and 1 large egg.
For the batter: 75g plain flour , 75g cornflour/starch , ¼ tsp Salt , ¼ tsp white pepper and Vegetable oil (enough to shallow fry).
For the sauce: 1 cup of water (250g) , ½ cup of white vinegar (125g) , ½ cup sugar (100g) , ½ cup of tomato puree (115g) and 1 tbsp cornflour/starch + water to make a cornflour/starch paste (to thicken the sauce if needed).
For the vegetables: 1 large onion sliced , 1 large carrot peeled and sliced into half circles , 1 pepper cut into cubes , 1 large tomato cut into wedges and Vegetable oil.
Optional – Spring onions to garnish.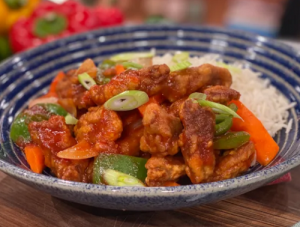 See more Chinese Cantonese style recipes in the book titled: Cantonese Style Recipes: A Complete Cookbook of Fantastic Asian Dish Ideas! available from Amazon now.