Kimberly Wyatt chicken biscuit pot pie with chicken slaw on James Martin's Saturday Morning.
The ingredients for the Chicken Slaw: 60g unsalted butter, 3 medium carrots, cut into 1cm pieces, 1 celery stalk (with leaves), cut into 1cm pieces, 5 button mushrooms, quartered, 18g salt, 115g frozen pearl onions, thawed, 45g plain flour, 950ml chicken broth, homemade or low-sodium canned, Freshly ground black pepper, 4g minced flat-leaf parsley leaves, 4g minced fresh chives, 4g minced fresh dill and 560g diced Poached Chicken, or other cooked chicken.
For the biscuit dough: 280g plain flour, plus more for dusting, 14g baking powder, 4g granulated sugar, 6g salt, 105g cold unsalted butter, sliced, 175ml milk, plus for brushing the top, 5g finely grated lemon zest.
For the poached chicken: 10 sprigs parsley, 2 sprigs fresh thyme, 1 small onion, halved, 1 small carrot, halved, 1 stalk celery, halved, 1360g chicken breasts halves, on the bone and fat trimmed and About 1L chicken broth, homemade or low-sodium canned.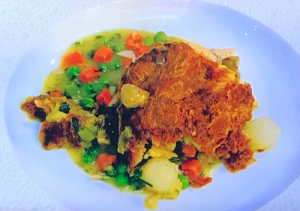 See recipes by James in his book titled: Complete Home Comforts: Over 150 delicious comfort-food classics available from Amazon now.