Matt Gillan served up BBQ monkfish with squid fricassee, tomato fondue and caramelised onion on James Martin's Saturday Morning.
The ingredients for the Monkfish Glaze: 50g soft dark brown sugar, 160g apple juice, 30g molasses, 60g brown sauce, 200g oyster sauce, 50g lime juice, Monkfish and 1x Monkfish tail fillet.
for the Squid Fricassee: 1x Squid tube, Flat leaf Parsley-chopped, 1x Caramelised onions and Maldon salt.
For the Madras Almonds: 2 tbls Madras paste, 50g Nibbed almonds and 2 pinch maldon salt.
For the Pickled Ginger: 30g Pickled ginger, Fresh coriander, Lime Pickle and 1x jar Lime pickle.
For the Tomato Fondue: 500g plum tomatoes, 20g caster sugar, 20g white wine vinegar, 5g tomato powder, 20g tomato paste, 2g salt and 2g onion powder.
For the Caramelised Onion: 2 brown onions and 5g salt.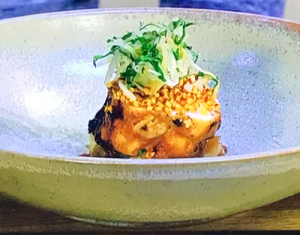 See recipes by James in his book titled: Complete Home Comforts: Over 150 delicious comfort-food classics available from Amazon now.