John Torode and Lisa Faulkner served up tasty fresh pasta with tomato sauce and garlicky bread rolls on John and Lisa's Weekend Kitchen.
The ingredients for the tomato sauce are: 1 onion, peeled and quartered, 1 carrot, peeled and roughly chopped, 1 stick of celery and roughly chopped, 1 clove of garlic, peeled and bashed, 2 tbsps olive oil, 2 x 400g tin chopped tomatoes, 300ml stock, 200ml red wine, 1 tbsp tomato puree, 1 heaped tsp oregano, 1 tsp sugar, 1 tsp Marmite, A splash of Worcester sauce and Salt and pepper.
For the dinner rolls: 325g strong bread flour, 1 tsp salt, 2 tbsp caster sugar, 1 sachet of yeast, 150ml milk, warm, 50g unsalted butter, room temperature, cubed, 1 large egg, 1 damp tea towel and Egg wash, beaten with a splash of milk.
To serve:
Grated parmesan (alternatively vegetarian hard cheese or vegan cheese)
Your pasta of choice (ideally a long 'noodle' style pasta like fettuccine, spaghetti or tagliatelle)
Shop bought garlic butter for your dinner rolls.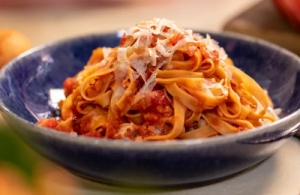 See recipes by Lisa in her book titled: The Way I Cook…
available from Amazon
now.